Great Backyard Patio Design Basics
In this hectic go, go, go world, sometimes we all just need a place to chill out and enjoy ourselves. That is where a good backyard patio design can improve the quality of our life.
A patio increases your living space and provides a wonderful area for outdoor entertaining. It can quickly increase the beauty of your home and its value. An outdoor patio is a "welcome home feature for your home. This is why a great backyard patio design is so important.
Whether you're building a new patio or renovating an existing one, you can create an outdoor patio space where you'll love spending your time. Designing the perfect patio for your home will be impacted by your backyard landscape, patio shape and size, patio materials and your budget. Keeping those factors in mind, take a look at some design tips for outdoor patio designs that may be perfect for your home.
At Allentuck Landscaping Company, we view patios as an extension of your home, your outdoor family room, so to speak. A place to spend quality time with family and friends, or just decompress from a long work week. You have probably gone to great lengths to make you indoor family room special. Why not do the same with your patio? Allentuck Landscaping Company has the talent and experience to make your patio just right for you.
Let's start with the basics.
What Shape Should I Make My Backyard Patio?
Patio shapes can be dictated by a lot of different factors; architectural style of the house, shape of the rear yard, potential uses of the patio and individual taste of the owners to name a few.
The more formal the architecture of the house, a more formal patio design may be appropriate. This mean the shape will usually come down to the basic shapes of squares, rectangles and circles, or some combination of them. This is also true in a small back yard where there is not a lot of room to build free flowing curves and arcs.
In a less formal or larger property, one may consider a free form patio design with sweeping serpentine lines or even irregular boundaries if that is desired.
In the end, there really is no correct answer. What is important is that the patio reflects your taste and lifestyle. You are the person that is going to be spending the most time in it and you need to be comfortable in it.
How Large Should Your Backyard Patio Be?
Depends. Will you be entertaining a lot of people or simply dining outside with your family. If you are like most people, the chances are good that you will be doing some of both. The trick here is to have enough room for those large gatherings while still having an intimate space so your smaller get togethers will not feel lost in a huge space.
This is where compartmentalization comes in. It is possible to create a smaller spaces, or rooms, in a large space simply by having separation by using planters, furniture, different levels or even by utilizing the shape of the patio.
Discuss with our designer all the ways you foresee using your patio in the future. These purposes will dictate how large to make your patio and how to plan for different spaces.
What Patio Materials Are Right For Your Backyard Patio Design?
When planning to build a new patio, most people consider flagstone patios or brick paver patios. Both are great options.
The most popular kind of flagstone used in our area is Pennsylvania Flagstone. It is the natural gray flagstone most people are familiar with. It is available in both regular style, which is different sized squares and rectangles, and irregular style, which is free form shaped. Choosing between them is a lot like the question regarding the shape of your patio; formal or informal. It is also possible to use both in different parts of your patio, which could create the different purposed areas we discussed earlier.
Construction methods also vary with flagstone.  There are two methods; mortaring flagstone onto concrete or setting flagstone on a gravel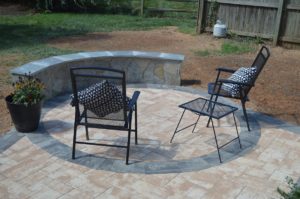 stonedust bed. Again, the decision comes down to which level of formality you want for your patio and the size of your budget. Setting flagstone on concrete is the more expensive option.
Brick pavers have come a long way in the last few years in terms of the colors and shapes that are now available.  It is possible to combine two or three colors and/or shapes in one project to make it uniquely yours. There are far too many options to even mention in this blog post. See our Patio and Walkway Selection Page (linked below) to view options that are available.
Brick pavers are most often set on a sand and aggregate base.
Finish Off With A Backyard Patio Landscape
Landscape and patio design go hand in hand. Creating a stunning backyard patio landscape design finishes off your patio project by complimenting the space you have create with a living landscape. Plant color, texture and form bring life and interest to your patio design and make spending time in it all the more enjoyable. When considering your backyard patio design, make sure to consider the bigger picture and consider your backyard landscape design at the same time.
To see different flagstone and brick paver options, please visit our Patio and Walkway Selection Page.
To see patio projects that Allentuck Landscaping Co. has design and built, please visit our Gallery.
In our next blog post, we will go into some of the features you can add to your patio to take it from great to extraordinary.
Related Posts:
Patio and Walkway Paving Materials
8 Front Walkway Ideas for Maximum Curb Appeal
Phone: 301-515-1900 Email: info@allentucklandscaping.com

At Allentuck Landscaping Company, our mission is to create beautiful environments for people to enjoy. We see landscaping as a way to improve people's lives.
The Allentuck Landscaping Company team has been a leading landscape company in Montgomery County, Maryland for over 28 years with our turnkey approach to landscape design, installation, construction and maintenance. Most companies try to serve many types of customers at the same time; homeowners, shopping centers, office buildings and the list goes on. At Allentuck Landscaping Co., we focus on one customer, you, the homeowner. We have a singular focus on bringing you the best landscape practices, the best customer service, and the best value for your home.
Services Provide – Master Landscape Plans, Complete Maintenance Programs, Plantings, Patios, Walkways, Retaining Walls, Water Features, Outdoor Lighting, Outdoor Kitchens, Trellises & Pergolas, Irrigation Systems, Drainage Solutions, Grading & Sodding. Fire Pits & Fire Places, Spring Clean Ups, Decks, Fences, Mosquito & Tick Control, Deer Control.
Areas Served – Chevy Chase, Bethesda, Potomac, Rockville, North Potomac, Darnestown, Gaithersburg, Germantown, Damascus, Boyds, Clarksburg, Ijamsville, Urbana, Frederick in Maryland and Washington DC.