Exciting news!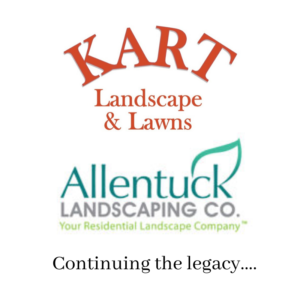 It is with great pleasure that we announce that Allentuck Landscaping Co. has acquired KART Landscape & Lawns, a Rockville, MD landscape company. In a separate transaction, we have also purchased the KART facility and are in the process of relocating our company to it and making many improvements to the site.
KART Landscape & Lawns has been in business for 40 years specializing in landscape design & installation, maintenance and drainage. The quality of their work and their company culture melds extremely well with that of Allentuck Landscaping Co. Operated by the Ramsburg family (father Bob and sons Tim and Andy – (a high school classmates of Bruce Allentuck), had decided to retire and the timing simply worked out splendidly.
Our team is working very hard this month to relocate all of our equipment and supplies to the KART property on Travilah Road in Rockville, Maryland. The property is 2.25 acres and sits right in the middle of our major customer base.. Our plans are to create an outdoor showroom with many of the pavers, stone products and plants we typically use so our customers can see first-hand how they will look when installed in their own landscape.
We look forward to serving you from our new location and hope you will come visit us once the build-out is complete.
Phone: 301-515-1900 Email: info@allentucklandscaping.com

At Allentuck Landscaping Company, our mission is to create beautiful environments for people to enjoy. We see landscaping as a way to improve people's lives.
The Allentuck Landscaping Company team has been a leading landscape company in Montgomery County, Maryland for over 28 years with our turnkey approach to landscape design, installation, construction and maintenance. Most companies try to serve many types of customers at the same time; homeowners, shopping centers, office buildings and the list goes on. At Allentuck Landscaping Co., we focus on one customer, you, the homeowner. We have a singular focus on bringing you the best landscape practices, the best customer service, and the best value for your home.
Services Provide - Master Landscape Plans, Complete Maintenance Programs, Plantings, Patios, Walkways, Retaining Walls, Water Features, Outdoor Lighting, Outdoor Kitchens, Trellises & Pergolas, Irrigation Systems, Drainage Solutions, Grading & Sodding. Fire Pits & Fire Places, Spring Clean Ups, Decks, Fences, Mosquito & Tick Control, Deer Control.
Areas Served - Chevy Chase, Bethesda, Potomac, Rockville, North Potomac, Darnestown, Gaithersburg, Germantown, Damascus, Boyds, Clarksburg, Ijamsville, Urbana, Frederick in Maryland and Washington DC.