Elegant Flagstone Patio & Fireplace in Chevy Chase, MD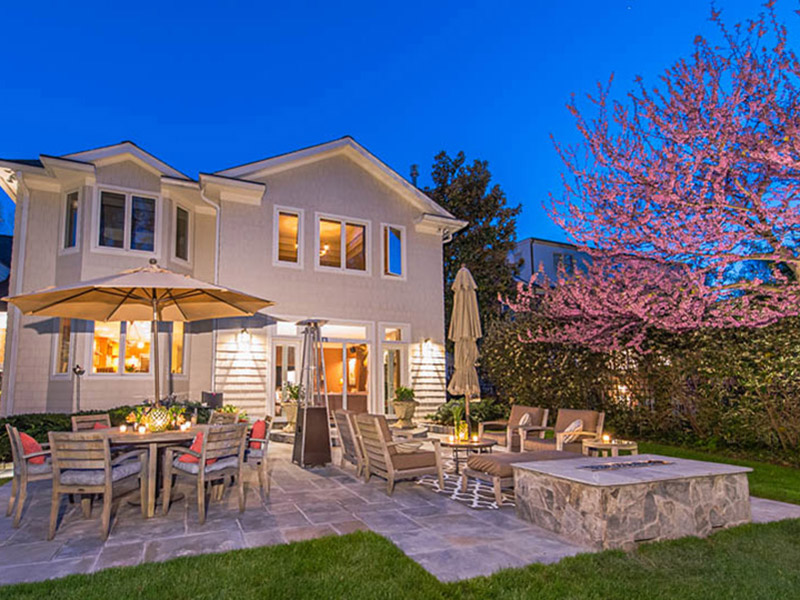 We just wrapped up an elegant flagstone patio and fireplace project in Chevy Chase, Maryland that can only be described as Wow x 10!
We have worked with this particular client for over twenty years and when she decided to create a new outdoor living space, we were thrilled to get the call. Knowing that she entertains a lot, we knew this project had to be special.
Our Landscape Architect worked closely with our client to get the design of the new patio just right and to make sure it met their needs. We actually started the project in early winter, planning to have it ready for nice spring evenings. Of course, no one could foresee a 3' deep snowstorm. Our intrepid team cleared a path to the work area and the work area itself in order to keep progress moving. Not a fun task.
The results, a spectacular flagstone patio large enough for entertaining but still intimate enough for a quiet outdoor dinner. The main focal point of the project is a rectangular stone gas fire pit. Guest can comfortably sit by the fire and enjoy a glass of wine and good conversation. As an added bonus, the fire pit can easily be turned on and off by a remote control. A circular stoop creates a great transition area from our customer's indoor living room to their new outdoor living room. New outdoor lighting turns on and off automatically and offers ambiance galore.
The project looks out over our client's beautiful property full of flowering shrubs and perennials. We have cared for this property since our client moved into it. Here is what our client had to say; "Working with the Allentuck Team was seamless from the design phase to the completion. They delivered beyond my expectations, I feel like we have added onto our house and they have exceeded my expectations. On time, on point and on budget!"
View Project Gallery