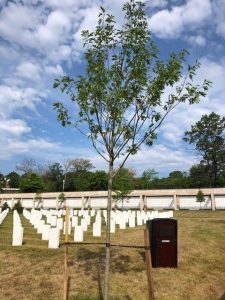 This year marks the 25th anniversary of the National Association of Landscape Professionals (NALP) Renewal & Remembrance at Arlington National Cemetery. Renewal & Remembrance is the landscape industry's largest day of service in which we provide turf care, plantings, hardscape, irrigation upgrades and install lightning protect in very mature trees to the 639 acres that make up Arlington National Cemetery. Allentuck Landscaping Co. has long participated in Renewal & Remembrance by sending employees to participate and donating equipment and materials. Bruce Allentuck is the past-Chairman of the event.
In most years, over 600 landscape professionals come to volunteer for the event. Many closing their businesses for a few days to do so, all paying their own way to Washington DC. It is generally a morning of controlled chaos. Between reconnecting with old and dear friends, listening to a few inspiring speakers at our opening ceremony, and getting last minute instructions and safety reminders, there is a ton of energy and excitement. There is also a solemn peace as the reason Arlington National cemetery exists is never out of our thoughts.
This year's Renewal & Remembrance would be different. understandably, due to the pandemic, the cemetery cancelled all events and currently does not allow visitors. NALP was granted the opportunity to hold a ceremony with no more than ten people.
Plans were put together on how we could best signify the importance of Renewal & Remembrance, honor those interred on the grounds, and provide something meaningful to our colleagues around the country. The participants would be the five past and current chairmen of the event, NALP President Andrew Ziehler, NALP CEO Britt Wood and several NALP staff members (we could never hold Renewal & Remembrance without their hard work). Three or our participants drove all the way from Ohio and Michigan, in itself a huge commitment to what the day meant. The event would be videoed and available for all of our association members to view (see below).
After inspiring words from Andrew Ziehler and Arlington National Cemetery Superintendent Ray Alexander, we planted a beautiful Red Oak tree. The planting of a tree represents optimism and something to look forward to. There is a saying that a person who plants a tree looks forward to the future even though they will never stand under its shade. This tree is a bridge from the amazing events we have held in the past, to the amazing events we will again hold in the future.
Although the day did not bring together the mass of our NALP family and energy of doing amazing work, there was a solemnness and sense of duty that is difficult to express. It was palpable. The words and actions were meaningful. The affection between the people present was obvious. There was a deep sense that what we were doing mattered so that our tradition of service to Arlington National Cemetery would continue and our colleagues could one day in the future (hopefully 2021) once again do the work that we take so much pride in.
The 639 acres that make up Arlington National Cemetery is the final resting place to over 14,000 veterans dating back to the Civil War. There are 27-30 funerals every weekday. It is also a Category 3 arboretum. The grounds are breathtaking and inspiring. That we, as landscape professionals, can play a small role for those resting their and their families, is what Renewal & Remembrance is all about.
Phone: 301-515-1900 Email: info@allentucklandscaping.com

At Allentuck Landscaping Company, our mission is to create beautiful environments for people to enjoy. We see landscaping as a way to improve people's lives.
The Allentuck Landscaping Company team has been a leading landscape company in Montgomery County, Maryland for over 28 years with our turnkey approach to landscape design, installation, construction and maintenance. Most companies try to serve many types of customers at the same time; homeowners, shopping centers, office buildings and the list goes on. At Allentuck Landscaping Co., we focus on one customer, you, the homeowner. We have a singular focus on bringing you the best landscape practices, the best customer service, and the best value for your home.
Services Provide – Master Landscape Plans, Complete Maintenance Programs, Plantings, Patios, Walkways, Retaining Walls, Water Features, Outdoor Lighting, Outdoor Kitchens, Trellises & Pergolas, Irrigation Systems, Drainage Solutions, Grading & Sodding. Fire Pits & Fire Places, Spring Clean Ups, Decks, Fences, Mosquito & Tick Control, Deer Control.
Areas Served – Chevy Chase, Bethesda, Potomac, Rockville, North Potomac, Darnestown, Gaithersburg, Germantown, Damascus, Boyds, Clarksburg, Ijamsville, Urbana, Frederick in Maryland and Washington DC.