Walkways And Paths Are More Than Just A Means To An End
The main functions of walkways and paths is to get you from point A to point B. How they get you there is just the start of things. There are lots of things to consider when planning walkways and paths. Among them are material considerations, width, directness to the end and elevation changes.
Material Options For Walkway And Paths
Where the walkways and paths are located will help decide what material to use. Front walkways tend to be more formal. For these, flagstone, brick or pavers  are the most appropriate choices. Combinations of these materials both in shape, style and color can make for unique, one of a kind walkways and paths. If, however, the walkways and paths are located in the rear yard or side yard, one may opt to use these same materials or consider less formal materials such as natural steppers.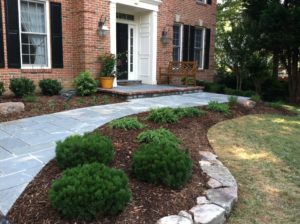 Whatever material is selected, it should compliment the architecture of the home and the existing hardscape features.
Width of Walkways and Paths
Just as the materials for front walkway tend to be on the more formal side, front walkways and paths should also be wide enough to allow two people to comfortably walk side by side. We recommend a minimum front walkway width to be at least 5' wide. For secondary walkways and paths, 3' wide is adequate.
Directness Of Walkways and Paths
How direct walkways are to getting to the end destination is simply dependent on how quickly you want people to get there. Sometimes, they say, the journey is half the fun. Straight line
walkways and paths maybe appropriate for getting to the driveway to the front door whereas meandering walkway and paths to get from the curb to the front door may be more enjoyable, especially if they wind through gardens with plants and features to enjoy along the way.
Elevation Changes in Walkways and Paths
The topography in our area is rarely flat, meaning that steps may be necessary in your walkways. Materials for steps usually are the same as for the walkways and paths but do not need to be. A little variation can make the steps a focal point and a place for transition. Consider mixing it up a little in order to make a more interesting set of steps.
No matter what you're looking for in walkways and paths, the design experts at Allentuck Landscaping Company can help.
Remember, Allentuck Landscaping Co. is always here to help you design, install, construct and maintain your lawn and landscape. Give us a call!
Phone: 301-5-515-1900 Email: info@allentucklandscaping.com
At Allentuck Landscaping Co., our mission is to create beautiful environments for people to enjoy. We see landscaping as a way to improve people's lives.
The Allentuck Landscaping Co. team has been delighting homeowners in Maryland, Washington DC and Northern Virginia for over 28 years with our turnkey approach to landscape design, installation, construction and maintenance. Most companies try to serve many types of customers at the same time; homeowners, shopping centers, office buildings and the list goes on. At Allentuck Landscaping Co., we focus on one customer, you, the homeowner. We have a singular focus on bringing you the best landscape practices, the best customer service, and the best value for your home.
Services Provide – Master Landscape Plans, Complete Maintenance Programs, Plantings, Patios, Walkways, Retaining Walls, Water Features, Outdoor Lighting, Outdoor Kitchens, Trellises & Pergolas, Irrigation Systems, Drainage Solutions, Grading & Sodding. Fire Pits & Fire Places, Spring Clean Ups, Decks, Fences
Areas Served – Chevy Chase, Bethesda, Potomac, Rockville, North Potomac, Darnestown, Gaithersburg, Germantown, Damascus, Boyds, Clarksburg, Ijamsville, Urbana, Frederick and Washington DC.