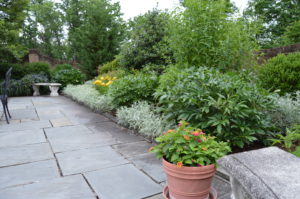 Homeowners in Rockville, Maryland, in need of full-service landscaping services know to turn to Allentuck Landscaping Company. We have been providing value-driven landscape design, hardscaping, drainage, outdoor living, and maintenance solutions since 1986 and have maintained a sterling reputation. It's easy to understand why. At Allentuck Landscaping Company, we have deep roots in our community and invest heavily in employee training to ensure they provide the highest level of service.
TotalScapes & GardenScapes Lawn Care Programs
What do you look for in a Rockville lawn care service provider? A company that is easy to work with? One that communicates well with its customers? Professional? How about a Rockville lawn care team that offers complete landscape maintenance packages? If you answered yes to these questions, then Allentuck Landscaping Company is for you.
We offer two distinct landscape maintenance packages—TotalScapes and GardenScapes, so you can choose the option that's best for you. Our TotalScapes program is our most comprehensive and includes weekly mowing, trimming, and garden care along with pruning, organic lawn fertilization, lawn aeration, spring and fall cleanups, and much more. If you require service less frequently, our GardenScapes package is the ideal solution. And, with both maintenance programs, you'll have the option to add services as needed. These include, but are not limited to:
Deer Control
Deer have become such a threat to garden plants doing hundreds of thousands of dollars in damage each year. Protect your landscape investment with our organic Deer DeFence program.
Mosquito & Tick Control
Diseases from mosquitoes and ticks are a real threat to the health of your family. Our organic applications are effective at repelling these dangerous pests and keeping them at bay.
Enhanced Tree & Shrub Care
Our organic based applications are designed to improve microbial activity, root development, flowering potential, prevent insect and disease damage, and improve the overall health and vigor of your plants.
Drainage Solutions
In addition to routine lawn maintenance, Allentuck Landscaping Company can provide an array of drainage solutions to prevent common problems, such as pooling water, flooding, and landscape erosion. We'll evaluate your property and recommend the perfect options, which might include foundation grading or installing a French drain, flow-well device, rain garden, or dry rock bed.
Landscape Design & Installation
Allentuck Landscaping Company offers design-build services to transform your home's landscaping. Our expert team of residential landscapers and hardscaping specialists will work with you from concept through completion to make your unique vision a reality. Our services can include:
Creating outdoor living spaces such as patios, decks, pergolas, and gazebos
Building driveways, walkways, and retaining walls
Elevating your outdoor spaces with custom fireplaces, outdoor kitchens, water features, lighting, and more
Contact Us Today
Learn more about what makes Allentuck Landscaping Company a leader among residential landscapers serving Rockville, MD, and all surrounding areas. Reach out to us today to get started on your project.