[vc_row][vc_column][vc_column_text]
Deer Skulls Wearing Sombreros! You never know
you will see on a trail.
This week's Death Race training was running in the Seneca Greenway Trail 50K, which is actually 34 miles, not 32. I wanted to do this race because I did not train for it. In fact, my longest run leading up to it was just 14 miles, a week ago. I didn't even sign up until Tuesday. My thought was that making it through the pain and suffering that was obviously going to occur, it would help me get through the pain and suffering of Death Race. The weather the day and night before was heavy rain. This trail has very wet sections even during dry periods. I knew we were in for a mudder and was not disappointed.[/vc_column_text][/vc_column][/vc_row][vc_row][vc_column][vc_column_text]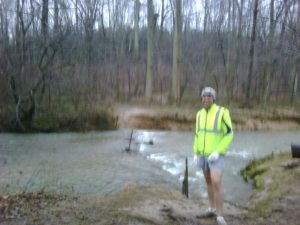 Tom the Creek Troll
 My friend Aaron Stanley, who I ran a large portion of the JFK 50 miler with in November, was coming down from Pittsburgh for the race and I was looking forward to running with him again. They arrived at the Riley's Lock earlier than expected. This is a point to point race ending at the lock. They bus you up to the trail head at Damascus for the start. There were only a few other racers there at this time plus Ed Schwartz, the race director. Ed asked if we wanted a ride to the start so we all jumped in.
[/vc_column_text][/vc_column][/vc_row][vc_row][vc_column][vc_column_text]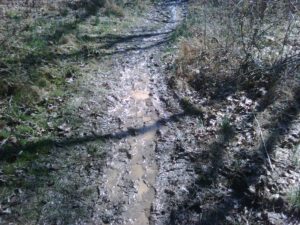 A tame section of the muddy trail
I  Once there, me and another guy (I can't remember his name so I will call him Fast Guy) decided that we were bored waiting for the start. Since we were both doing the race as training days, we asked Ed if he minded if we started early. Ed shrugged his shoulders so off we went. Fast Guy looked to be very fast so when we got to the trail head I told him to not let me hold him back so off he went.
At around mile 5 I was met by Tom the Creek Troll at the creek crossing. The water here is about thigh deep, it was cold but felt refreshing. For the next 2 ½ hours I was in second place of an ultramarathon (yes, I know I left an hour before anyone else but let me have this fantasy please)! To pass the time, I sang Garth Brooks and OAR songs. As the true leaders came flying through I was in awe of their speed and ability. They all wished me well and I did the same. Trail runners are a friendly lot.
After many hours, I started to get some chafing in a couple of very awkward places (use your imagination). It was becoming very uncomfortable. At the time, I was running with a bunch of guys. The pain was becoming excruciating so I blurted out, "Does anyone have any vasaline or lube?" I was met with an awkward silence realizing that asking a bunch of guys for such things in the middle of the woods may not have been the best strategy. I decided that my options were to grin and bear it at the risk of losing a testicle or drop out. I kept running. If Lance Armstrong can live with one nut, so I can I. Odd decisions one makes when in distress. (I am happy to report that "righty" is doing just fine).
A majority of the trail was under water or very muddy. This presented challenges but nothing that couldn't be overcome. The day turned quite beautiful. I even took off my long sleeve shirt around noon and opted for the short sleeves. There were tons of extremely nice and cheery runners and the aide station volunteers were fantastic. I never did get to run with Aaron but after the race he and his friends Pat and Mike (also from Pittsburgh) came over to the house for showers and beer. Later it was off to Kelly and Tom's for a goodbye party.
[/vc_column_text][/vc_column][/vc_row]