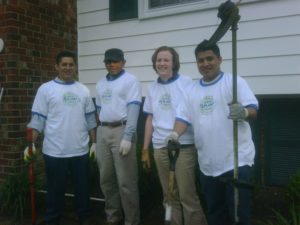 The Allentuck Landscaping Crew Does It's Magic
Members of well-reputed professional landscape firm Allentuck Landscaping Co. descended on Jubilee House in Rockville, Maryland today to lend a hand and spruce up the landscape on the property. Five members of its well trained staff took part in the event, the sixth year Allentuck Landscaping Co. has donated services to Jubilee House.
The Allentuck Landscaping Co. project is part of a nationwide "Day of Service" initiated by national Professional Landcare Network lawn and landscape association PLANET, with the goal of giving it's over 4,200 member companies and affiliates an opportunity to plan, organize, and carry out projects to give back and benefit their local communities.
Allentuck Landscaping Co.'s president, Bruce Allentuck, touts the event's purpose as a "shining example for members of the lawn and landscape industry to play a publicly vital role as caretaker's of the world's green spaces, parks, schools, and public grounds, thereby creating and maintaining a crucial quality-of-life factor in communities across America."
A perennially recognized leader in community service contributions, Allentuck Landscaping Co. plans and carries out five to eight community service projects every year. "These projects provide the company an opportunity to thank our community for helping us  succeed in our business, but also provide us with an opportunity to foster camaraderie and teamwork," says Allentuck.
Allentuck Landscaping Co. chose to volunteer at the Jubilee House because it was inspired by Jubilee Association of Maryland's commitment to providing people with developmental disabilities the support and enrichment they need to fulfill their own lives.
"We are very happy that we could give a little of our "Allentuck Landscaping Co. magic" to such a worth organization."